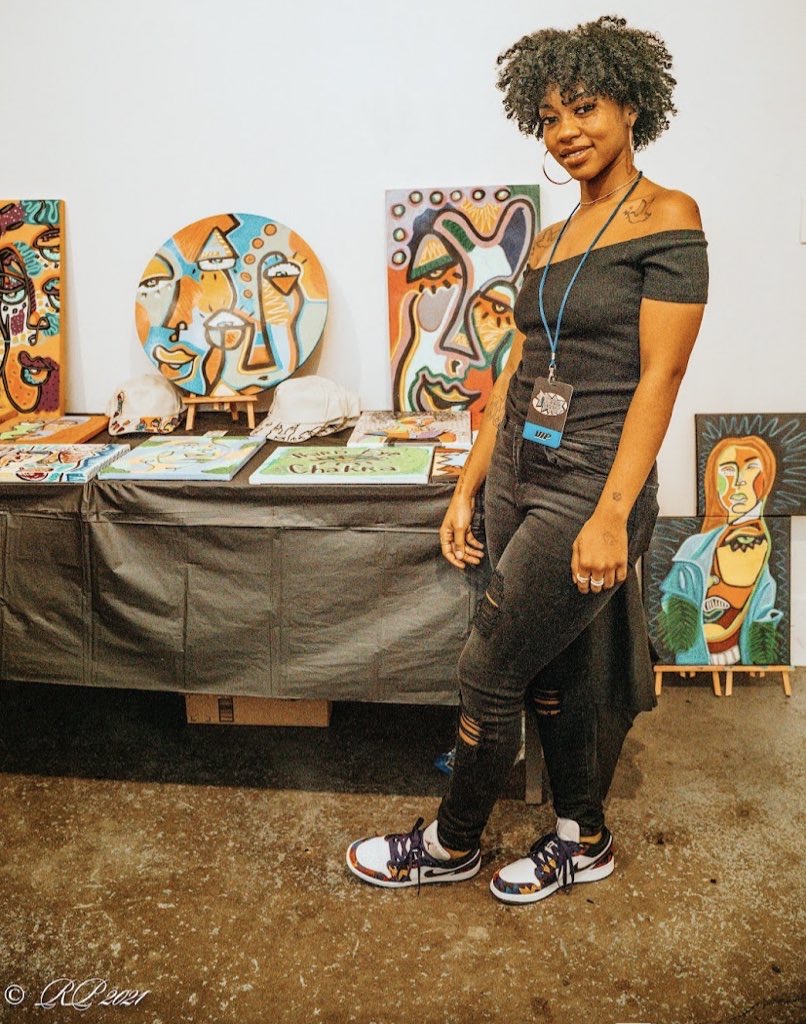 Dita Montana is a 29 year old self taught artist from Houston, TX. Acrylic and oil pastels are her preferred mediums.
Dita has been dedicated to art all of her life. In grade school, she would enter local art competitions and would showcase her latest piece to art scouts around the world! Her parents can recall her drawing on the walls and the dressers in the house when she was a baby. Before Dita was an acrylic painter, She frequented still-life studies taught by her high school teacher, Ms. Kenefic. She credits much of her artistic motivation to her high school art teacher, whose classroom was home away from home and where she learned the fundamentals of mixed media. She also experimented with mixed media collages and objects in a 3D sculpting style. Ditas current style is abstract, which she expresses on surfaces like fabric, wood and canvas.
"I'm a recluse so I try to tell a story or convey an emotion that can't be limited to words. My tunnel vision mode activates once I start creating. Neither a room full of chaos or total isolation can break my focus" - September 2018, Voyage Houston Interview
Today, Dita can be seen creating large abstract pieces in her home studio, curating art events such as Art Haus and live painting any chance she gets. She also owns a paint party business titled Dita's easel and is looking to have her work showcased in local and international galleries.
Her artwork has been featured on the following blogs:
The Shade Room
Black Girls Who Paint
Voyage Houston
Jaamzin.com
Urbanconscious.co
PureHTX
Selah.zyx
CultureVulture Magazine
Black Art Expo
V0id Magazine
Raw Artists - Houston